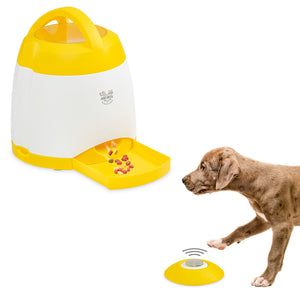 Arf Pets
Memory Training Puzzle Toy
Product Code:
APTDT
Regular price
$59.99
Sale price
$74.99
---
Share this Product
Make pet exercising a real treat!
Delight in having the smartest, healthiest pet on the block. Exercising your dog or cat is fun, easy, and effective with the Memory Training Puzzle Toy from Arf Pets.
Designed for memory improvement and exercise, the versatile activity trainer encourages your pet to run and play by rewarding with treats: Each time your pet presses the remote release button, an exciting sound plays, and treats dispense into the feeding tray. Increase the difficulty level by placing the remote release unit in another room.
Give your fur-baby a healthy dose of daily exercise and a doggone good time with the activity trainer from Arf Pets in your cart today!
Ultimate dog memory toy – Test your pet's memory with this fun and rewarding toy
Exciting treat dispenser – Let your pup know he is being a good boy with instant treat dispensing
Enticing sounds – Fun sounds and lights are sure to help keep your dog engaged
Use in various settings – With indoor and outdoor setups, the toy can be used anywhere
Fun for you and your pet – Enjoy quality time with your pet with this Memory Training Puzzle Toy
---
More from this collection