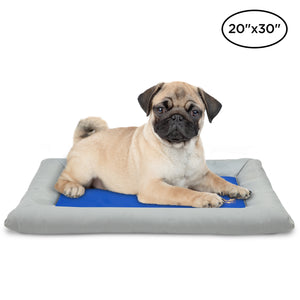 Arf Pets
Cooling Bed
Product Code:
APCLBS
Regular price
$59.13
$0.00
---
Share this Product
Cool as the other side of the pillow
We all know how hard it is to stay cool in the summer, and it's probably even more difficult for our pets. Help your furry friend keep cool with the Arf Pets Cooling Bed.
The Arf Pets Cooling Bed doesn't require any assembly or difficult installation. Simply present the mat to your four-legged companion and give them instant cooling relief. An effective cooling gel flows throughout the bed giving you powerful cooling with no batteries, water, or electricity required.
Cools for hours, recharges in minutes
This bed can cool down your pet for up to three hours and only takes 15 minutes to get cool again. Place the mat in the kitchen, living room, dining room, or anywhere else your furry friend loves to lie down.
Cleaning the mat is a breeze using just a little soap and water. This cooling bed is a perfect travel item when you are on the go with your pet. Keep your pet comfortable and happy with the Arf Pets Cooling Bed.
Cools for up to 3 hours – With unique gel materials, this cooling bed provides up to 3 hours of continuous cooling
Non-toxic and latex-free – All materials used in this cooling bed are safe for the entire family
Easy to clean – Made from durable materials, this cooling bed is a breeze to clean with just a little soap and water
Automatic recharge– The inner gel automatically cools back down when not in use, meaning no batteries or power cords
Puncture resistant – Your cooling bed will stay in working condition with its puncture-resistant construction
---
More from this collection