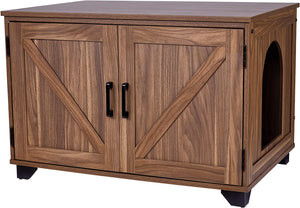 Arf Pets
Large Cat Litter Box Cabinet
Product Code:
APCATBXMF
Regular price
$149.99
$0.00
---
Share this Product
Meet your pet's needs, with style
We all love our furry friends. But sometimes we don't love some aspects that come with their companionship. Maybe it's their toys, scratch marks, or their messes in general. Don't let your cat's litter box be another one of these eyesores in your home with Arf Pets Large Cat Litter Box Cabinet. Designed to tastefully mask your cat's litter box to match your home's décor and add functionality to this former blemish in your interior design. This innovative unit hides your pet's necessary undesirables and makes it a stylish adornment that serves a purpose. Easily holding a television, house plants, table lamps, family pictures, and more, this litter box is made to fit your home's layout.
Designed with you and your cat in mind, this litter box enclosure is easy to assemble, with movable dividing panel, allowing you to either store a large litter box or keep an extra compartment for food or toy storage, while adding to your home's arrangement. Simply use these pet items when you need them and store them out of sight when you don't. This litter box gives your home the superb styling you want with the functionality your whole family needs.
Don't choose between making spaces for you or your four-legged friend. The Arf Pets Large Cat Litter Box Cabinet maximizes your space while making it suit the whole household.
Multifunctional furniture – A stylish piece of furniture for you and an excellent cat litter box enclosure for your pet.
Customizable internal configuration – Set up your enclosure to fit large litter boxes or to include a separated storage compartment.
Sleek design – Stylishly designed to accentuate your interior design while giving your cat their space.
Easy to assemble – With the included hardware kit and user guide, this litter box enclosure comes together quickly.
Simple access for your cat – Designed with your cat in mind with your choice of one or two entrances for your furry friend.  
---
More from this collection